7 Colors PDT LED Light Therapy VS 4 Colors PDT Face Photodynamic Therapy Heating Treatment Beauty Machine
How does light therapy work?
LED red light therapy uses a process called photodynamic therapy (PDT). But first a quick look at what light is - Light is part of the electromagnetic spectrum, a form of energy that comes in various wavelengths. These wavelengths are basically the colours that we see and each of these different wavelengths cause a very different cellular reaction in the skin.
Back to LED red light therapy, this treatment involves using a light-emitting device to destroy acne-causing bacteria. The light energy from the device is absorbed by the bacteria, causing them to produce oxygen radicals that destroy the bacteria. bacteria can't survive in an aerobic environment.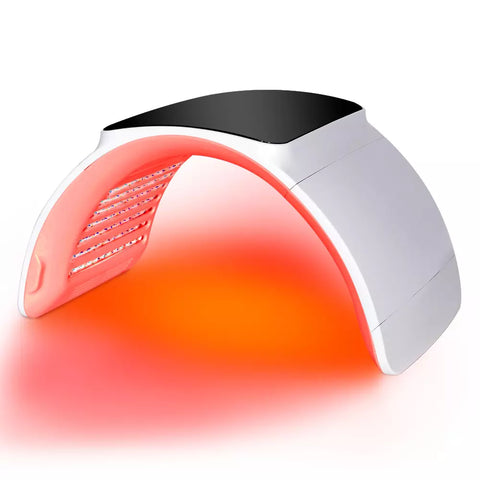 Features
This red light face therapy offers you 7 shades of light therapy. Dimensions:38*28*39cm,Weight:4.5 kg. Power consumption: 36W.Natural light helps control oil, redness, and aging. This device has two non-emitting near-infrared lights, invisible to the human eye. Red light 630nm | Blue light 470nm | Green light 525nm | Yellow light 590nm | Orange light 610nm |
Natural LED Mask Light Therapy uses seven lamps to improve skin circulation and health without causing any side effects. The smart control system gives you greater flexibility and personalisation to create your own treatments, choose your favourite colour settings and enjoy a spa-quality facial at home.
Our LED red light therapy device are fully packaged, with built-in cooling fans for heat dissipation, and a dual-fold feature to save storage space. More convenient and economical.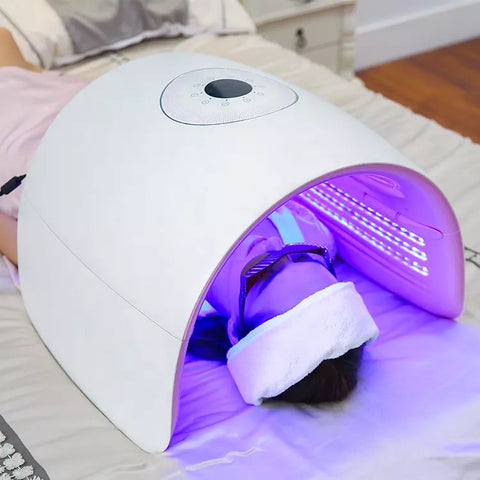 Features
This red light therapy for face 360pcs led,wavelength:660nm&850nm is very durable, reusable, and easy to install and use. Both men and women can use, suitable for all skin. Through LED beads, energy will penetrate into the skin, activate the activity of skin cells, make the skin absorb light to the greatest extent and achieve the effect of improving the skin.
 Make the skin produce cosmetic efficacy of collagen, make skin bright and white, and reduce the appearance of fine lines and wrinkles.

 Provide skin cell activation energy, accelerate the metabolism of skin, make skin keep like baby carefully.
360pcs high quality non-heat producing LED lights.There are no side effects and offers pure light and energy for skin care,which is suitable for all skin types.
For quality problems, we provide 1 month free replacement or repair service and 12 months after-sale quality guarantee.
The functions of different light color
Red light is used to promote skin cell regeneration.
Blue light is used to treat acne.
Green light reduces melanocytes and reduces pigment.
Yellow light is used for photo rejuvenation.
White light decomposition dyeing.
Purple light eliminates acne marks.
Blue light blue promotes metabolism.
What are the benefits of red light therapy for acne?
From all the wavelengths of LED light therapy for acne, blue LED light is considered the most effective. Blue LED Light works in a number of ways to control acne/breakouts:
Antibacterial Properties – as discussed previously blue light sets off a chemical reaction that eliminates acne-causing bacteria, P. acnes. This bacterium produces a protein called porphyrins, which then absorbs the blue light, and a chemical reaction begins, killing the bacteria
Regulates Sebum Production - excess sebum can clog pores and is a key component in the acne cycle, reducing this will help to prevent break the acne cycle
Improves Inflammation – works to reduce redness associated with acne and breakouts, however if you have more redness and inflammation, we suggest using red LED light therapy.
Red LED light has anti-inflammatory benefits, which is why it can be used in conjunction with blue light for acne, especially moderate to severe
Red light also helps to increase the skin's wound healing processes, which boosts, the regeneration of collagen and elastin, which can be very helpful in addressing acne scarring
Once you get scarring especially pitted scarring, LED light therapy may not be the best treatment and we would recommend professional microneedling, chemical peels etc.
Are there any side effects?
LED light therapy for acne treatments offer a great alternative to the standard topical and oral acne treatments out there. It's no chemicals, no pills approach, however some severities of acne may need a prescription treatment to bring it control before using LED light therapy
How often should you have light therapy for acne?
There needs to be adequate time spent under the light for continuous periods of several weeks. With acne if its hormonal you may only be able to control it and not treat it for good. Therefore, a careful maintenance program needs to be followed.
Each of our devices have a separate protocol for usage so follow the instructions carefully. On average we recommend 10-20 minutes usage 4 times a week minimum.
Conclusion
When comparing
best red light therapy for face
.While you may have to do some homework to determine whether the red light panels you're looking at are legitimate, IMOOL makes it easy for you.
We guarantee that all of our 
red light therapy devices
 are medical-grade and third-party lab tested to ensure that you're getting the highest quality devices that will provide you with the results you're looking for.
Sample Block Quote
Praesent vestibulum congue tellus at fringilla. Curabitur vitae semper sem, eu convallis est. Cras felis nunc commodo eu convallis vitae interdum non nisl. Maecenas ac est sit amet augue pharetra convallis.
Sample Paragraph Text
Praesent vestibulum congue tellus at fringilla. Curabitur vitae semper sem, eu convallis est. Cras felis nunc commodo eu convallis vitae interdum non nisl. Maecenas ac est sit amet augue pharetra convallis nec danos dui. Cras suscipit quam et turpis eleifend vitae malesuada magna congue. Damus id ullamcorper neque. Sed vitae mi a mi pretium aliquet ac sed elitos. Pellentesque nulla eros accumsan quis justo at tincidunt lobortis deli denimes, suspendisse vestibulum lectus in lectus volutpate.